News
A poster of the GEFE project has been displayed during the RADiation Effects on Components & Systems (RADECS) 2016 conference, held at Bremen from 19/09/16 to 23/09/16.
The poster can be downloaded from the "DOCUMENTS" section of this site.
The results of the radiation test performed to the GEFE v2 at the CHARM facility at CERN have been presented during the Radiation Working Group (RadWG) meeting on the 07/07/16 at CERN
The slides of the presentation can be downloaded from the "DOCUMENTS" section of this site.
The new stable release v5.0 of the WR Switch firmware comes this year as a Christmas present. As always, you can find all the links to download the firmware binaries and manuals on our release wiki page
Main features and fixes include:
Updated Buildroot 2016.02
Updated Linux kernel 3.16.38
Fixes to the SNMP support preventing it from crashing or not updating objects
Changing WR interfaces enumeration in Linux (wri1..18 instead of wr0..17) to match the ports enumeration on the front panel
64-bit Tx/Rx frame counters
Verification of firmware checksum before updating
VLANs configuration in the central dot-config file
make menuconfig on the switch to facilitate modification of a local dot-config file
New timing role none to disable PTP on selected ports
More verbose Syslog messages in case of errors
new wr_mon tool - with improvements for reporting VLANs and synchronization peer
User-defined boot script execution for all exotic setups currently not possible with standard configuration mechanisms
Tools for reading and writing SFP EEPROMs
Advanced RTU configurations in dot-config
Re-written, more efficient multiport linked list in the switching core
Added bandwidth throttling HDL module to prevent CPU from being flooded with traffic from WR ports
Additional frames counter for traffic originated from Linux to WR ports
Improved RTU forwarding decisions to save resources and not forward Ethernet frames to ports that are down
White Rabbit Switch: Failures and Diagnostics - document that lists various errors that the switch may report and tries to propose possible problems that caused the Error and actions that should be taken.
You can find a list of the main features and bugfixes in the wiki pages for two subprojects:
We also advise you to read the two FAQ items [1] [2] describing minor issues you might experience when upgrading to v5.0.
Thank you for all the bug reports and contributions. As always, we encourage you to try this fresh release on your switches.
Greg Daniluk, Adam Wujek
Javier Serrano will give a Keynote presentation at the PCaPAC conference.
Open Source Hardware (OSHW) follows the lead of Free and Open Source Software (FOSS) and has similar goals: ensuring developers can share their work without artificial hurdles, improving quality through peer review, avoiding vendor lock-in and providing for a fair playground in which projects can thrive and accommodate contributions without compromising their long-term future. The talk will introduce OSHW and then attempt to answer a number of questions:
•What are the perceived benefits and issues of OSHW, in general and in the context of public research facilities?
•What is new with respect to FOSS?
•What makes OSHW projects succeed or fail?
The talk will use real examples of OSHW projects throughout, and will conclude with some thoughts about what the future holds in this domain.
The 11th International Workshop Personal Computers and Particle Accelerator Controls 2016 (PCaPAC) will be held by LNLS, in Campinas, Brazil. PCaPAC traditionally focuses on low-cost control systems using PC technology for control & data acquisition systems and emerging technologies.
In his message KiCad: A commitment to freedom, Javier Serrano thanks the KiCad supporters for their generous donations through the CERN & Society Foundation.
DCES will be presented in at CHEP 2016 in San Francisco during the poster session.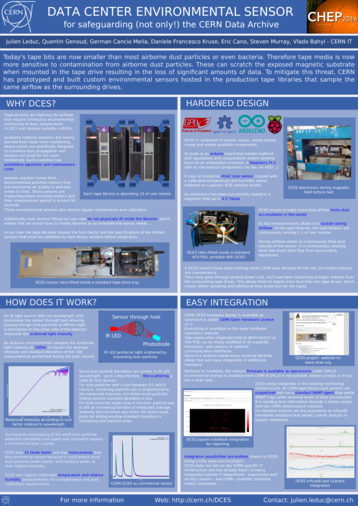 Version 3.0: a major HDLMake release milestone.¶
After a massive refactoring & upgrade process, we have just taped-out the brand-new HDLMake 3.0 release candidate. This version supersedes v2.2 as the future Master candidate, as it features some new features that were planned as critical for spreading the usage of the HDLMake tool.
We apologize about the unexpected delay for this year's release... but we have devoted a lot of time in polishing and getting the source code ready for both reaching a wider audience and allowing a friendly entry to potential new contributors.
New Features¶
These are some of the highlighted features for the new v3.0 Release:
Updated HDL code parser and solver: the new release includes by default the usage of an embedded HDL code parser and solver to manage the synthesis and simulation process. We have tried to be as conservative as possible to not break (so much) projects based on older versions, but please report any issue you may find.
Support for Python 3.x: the new release supports both Python2.7 and Python3.x deployments in a single source code branch, enabling an easier integration into newer O.S. distributions.
Native support for Linux & Windows shells: The new release not only supports Linux shells as the previous ones, but features native support too for Windows shells such as the classic CMD promt or PowerShell.
TCL based Makefiles: in order to streamline the process of supporting as many tools as possible in a hierarchical way, in a changing world and rapidly evolving world of FPGA technology and tool providers, we have adopted TCL as the common language layer used by the generated Makefiles.
Optional Web-based graphical frontend: A new graphical frontend based on Node.JS has been developed so that HDLMake can be friendly controlled in both local and server based deployments.
Yocto Project Integration: the HDLMake release candidate has been successfully integrated into Yocto Project based design-flows to build an entire binary runtime for SPEC based White Rabbit deployments, ranging from the embedded Linux O.S. Kernel, libraries and drivers to the several FPGA bitstreams that need to be synthesized for dynamic hardware reconfiguration.
Call for Contributors¶
We are very interested in spreading the adoption of the HDLMake tool in as many actual deployments as possible, so do not hesitate in sending an email to the official mailing list for public requests or contacting the HDLMake active project manager for confidential or commercial issues.
Version milestone & deadline¶
Starting from this announcement, we start a Quarantine period for the HDLMake v3.0 release after we will propose to promote this version as the new Master.
In this period, in order to foster a wider adoption of the tool, GL Research will provide commercial support for free (as a free beer) to those institutions and commercial companies interested in exploring HDLMake adoption and becoming potential contributors.
In addition, we will inherit and tackle the issues from version 2.2 reported as not yet solved by their respective issuers in this period. Please, check the current status for the issue when using this release and report it to the mailing list so that we can track it.
For further information about opened issues to be tackled before the 3.0 publishing milestone, check the 3.0 version entry at OHR.
Documentation¶
The documentation is included into the source code and written in Sphinx format. Please, report for any fix, typo or upgrade you want to be issued and solved before publishing as a stable release.
As a convenient resource, HDLMake relies on ReadTheDocs to host an updated version of the pre-built documentation for HDLMake v3.0 release candidate.
Git access to source code¶
You can find the HDLMake v3.0 release candidate source code by cloning the Git branch for release-3.0 and installing it as a common Python package on top of your favourite host machine Python deployment.
Also available in: Atom